What do I do to prepare for admission to the BSN program?
Students should begin enrolling in the nursing pre-requisite courses in addition to courses in the General Education Requirements the first semester of their freshman year.
I am not currently enrolled at Appalachian State University, do I need to apply prior to pursuing admission to the BSN program?
Yes. Please access the application here. Students must be admitted to Appalachian State University at the time of their application to the BSN program.
How is student advisement structured to help me plan for a degree in nursing at Appalachian State University?
Students are assigned to advisors when they are admitted to Appalachian State University. Once the student declares a major, they are assigned a primary advisor from the Beaver College of Health Sciences. Once admitted to the BSN program, the student is assigned an advisor from the nursing faculty.
How will I know if the courses that I have taken at other colleges will transfer?
Appalachian State University has an Office of Transfer Services. Students are encouraged to review the course requirements for admission. The Office of Transfer Services will make an official determination.
Must I have completed all of the general education requirements prior to submitting my application to the BSN program?
Applicants are allowed to have no more than 3 outstanding general education courses left to complete once they are fully accepted into the BSN program. However, it is advised to complete all general education courses prior to entry into the program.
What will increase my chances of being admitted to the BSN program?
Research indicates that GPA and GPA in science courses correlate strongly with success in nursing. It is advised that prospective students attain and maintain the best GPA possible. Students should explore healthcare issues, trends and the role of nursing.
Must I have my CNA certification to be admitted?
Beginning with the January 2022 admissions process, students must have a current CNA. Please see the admissions page for more information.
How many students are accepted each year?

The BSN nursing program is approved by the NC Board of Nursing for a total of 80 students in the pre-licensure program (this includes both the junior and senior levels).
Are scholarships available?
There are some limited funds available for nursing scholarships. Students are advised to contact the financial aid office for assistance for a full assessment of available individual options for assistance. In addition, the North Carolina General Assembly offers Forgivable Education Loans for Service. Nursing students for all degrees are eligible to apply for this forgivable loan.
What are my options if I am not selected for admission to the BSN program?
We encourage applicants to consider re-applying the next year. It is advisable to have a back-up plan in case you are not admitted to the program. Applicants are encouraged to consider a double major or minor in a social science such as psychology, sociology, or foreign language. It is also prudent to take additional classes such as child development, nutrition, healthcare management, or other health-related classes.
Students who decide to pursue other options such as a community college ADN nursing program may consider applying for our RN-BSN online program after graduation.
What are the clinical courses like?
Our nursing faculty and academic support personnel strive to arrange varying clinical experiences that will enhance nursing theory and concepts taught in our didactic classes. Our BSN program offers these experiences in adult health, community health, mental health, obstetric, pediatric, critical care, and emergency room nursing. Students in the BSN program complete a capstone experience in their final semester of the program.
Will I have to drive to clinical?
Students are expected to make transportation arrangements for attending the clinical sites assigned to them. Students may organize and manage carpooling if individual transportation is not available.
What is the pass rate at Appalachian State University for the licensing exam?
Current pass rates can be found at the North Carolina Board of Nursing.
Is there a Student Nurse Organization?
SNA-APP (Student Nursing Association at Appalachian) is the official nurse organization on campus.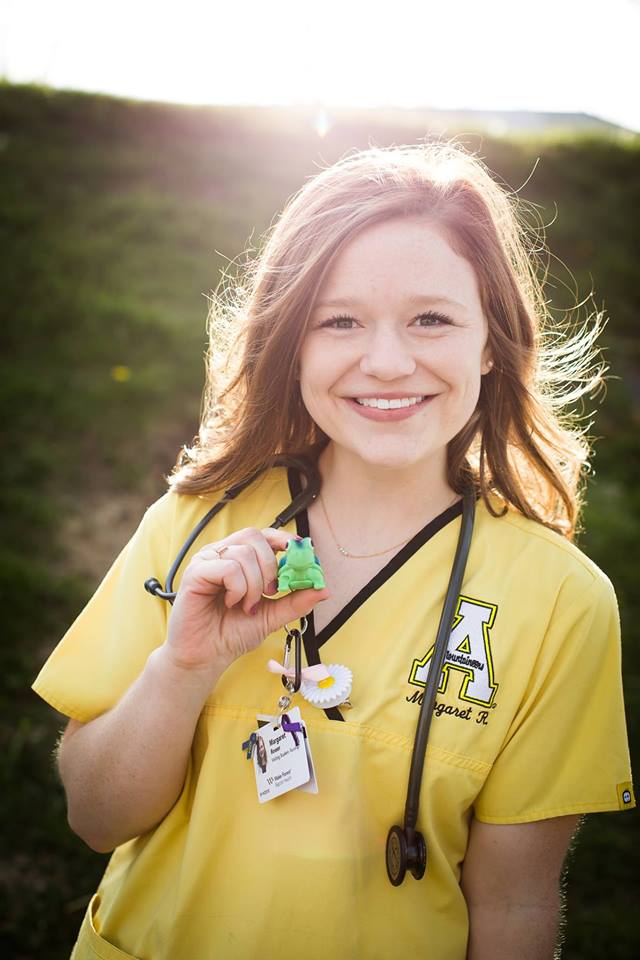 *Photo credit to Hedrick Photography