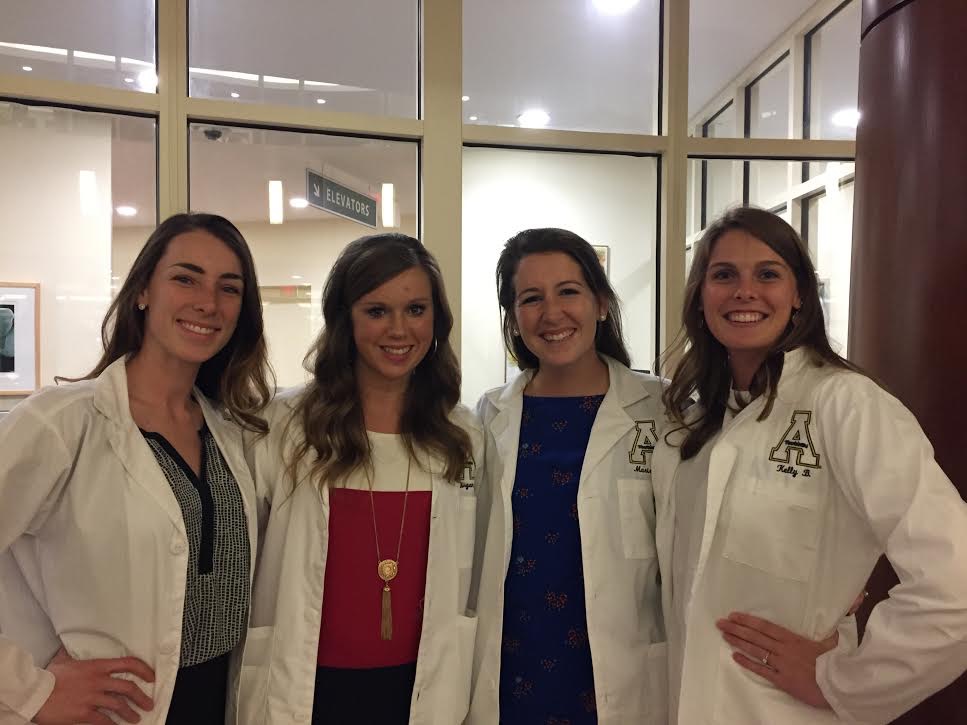 Minimum Requirements for Admission
BSN (Prelicensure) Applications open in November and can be submitted after December 15 through the first day of classes of Spring semester (this year = January 10, 2022).
This application process is highly competitive and the most highly qualified will be admitted to the program. Accepted students enter the nursing program in May of the first summer session.
All applicants must meet the following minimum admission requirements*:
Minimum cumulative GPA of 3.0 on coursework taken at and transferred to Appalachian State University
Admitted to Appalachian State University
Application worksheet: This worksheet is not to be used to formally apply to the Appalachian Nursing Program. It is only for your personal use. Some of the information going to the Appalachian Nursing Admissions Committee will be generated from the Appalachian Banner System. This means that some of your personal information will not be entered manually by you, but will automatically travel with the online application when it is submitted. Once the online application has been submitted it cannot be retrieved or edited.
As you prepare to apply to the nursing program, please be advised that for your prerequisite course requirements, the letter grade part of the grade will still be used in determining your major, and prerequisite requirements for entry into the nursing program.
A grade of "C" or better in the following required courses or their equivalent:

NUT 2202 Nutrition and Health
PHL 2000 Philosophy, Society and Ethics OR PHL 3015 Medical Ethics
PSY 1200 Psychological Foundations
PSY 2210 Psychology of Human Growth and Development
SOC 1000 The Sociological Perspective
STT 1810 Basic Statistics OR STT 2820 Reasoning with Statistics

A grade of "B-" or better in the following required courses or their equivalent:

BIO 2200 Human Microbiology
CHE 1101 Introductory Chemistry I
CHE 1110 Introductory Chemistry I Lab
CHE 1102 Introductory Chemistry II
CHE 1120 Introductory Chemistry II Lab
ES 2040 Human Anatomy
ES 2050 Human Physiology

Applicants are encouraged to complete all General Education courses prior to entry in the BSN program. In addition, CHE 1101, 1110, 1102 and 1120 (which fulfills General Education Scientific Inquiry requirement) must be completed with a grade of 'B-' or better.

Determining if Courses will Transfer: Appalachian accepts many courses for transfer credit, but there are situations where courses will not transfer if the content of the course is not considered equivalent to the content of an ASU course. Only courses with grades of C or higher transfer. Appalachian does not accept any nursing courses for transfer credit. (Students must take all required nursing course work at Appalachian State University). The easiest way to determine if courses will transfer is to regard the prerequisite courses (above) that are required and look up the courses in the Equivalency Database.

Documentation of a satisfactory health evaluation signed by the student's healthcare practitioner and attesting to the applicant's physical and emotional health to provide nursing care is required. Forms will be sent to the applicants during the spring semester prior to beginning the program and must be completed and on file in the Department of Nursing in order for the student to receive final acceptance into the program.

Beginning January 2022, applicants seeking admission to the Appalachian State University pre-licensure Bachelor of Science in Nursing (BSN) program must be certified as a Nurse Aide I: (Certified Nursing Assistant I-CNAI) through a state approved program* and listed in the North Carolina Nurse Aide Registry.

Pre-nursing students applying for the BSN program in January 2022 are required to have certification as a nursing assistant. If you do not yet have this certification, the BSN program strongly encourages you to enroll in a Nurse Aide course that can be completed over Summer semester to alleviate scheduling and workload conflicts with our prerequisites during Fall Semester. The BSN program would like to recommend courses available at Wilkes Community College (at Wilkes, Alleghany, or Ashe Campuses) being held this summer.
If you are looking for a CNA Certification Course, look here: Please see this link for more details. Scroll down or filter this list to see NUR 3240. There are four course offerings this summer: https://wcc.wilkescc.edu/workforcedevelopment/index.php
Certification as a Nursing Assistant 1 allows applicants to:
Determine whether nursing is the right choice
Develop a rapport with patients, nurses, and other health care professionals
Increase the level of confidence in working in the health care setting
Progress in obtaining certification as a nursing assistant II
Build a professional resume
Applicants may find a list of approved CNA programs throughout North Carolina by clicking on either of the following links: NC DHHS or Registered Nursing.org.*
*Applicants with an out-of-state Nurse Aide 1 or EMT license or Military Medic training, can apply for a "Training Waiver" with N.C. Dept. of Health & Human Services Division of Health Service Regulation Health Care Personnel Education and Credentialing Section