BSN Program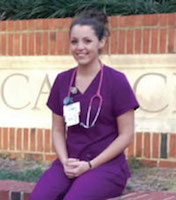 Mattie Godfrey is a 2013 graduate of the BSN program. A native of Apex, NC, Mattie distinguished herself on campus by serving as an Appalachian Student Ambassador, as a member of the Diamond Club (baseball) and SNAPP. Mattie charted her own course and pursued a position as a Registered Nurse at Vanderbilt Medical Center in Nashville TN. She is currently working in the ACE Unit (acute care of the elderly) and is now assisting with dementia research on her floor as well. Mattie states, "Nursing truly is an amazing field and I am continuing to learn so much every day. Appalachian nursing prepared me so well for the work world and the challenges we face every day on the floor. I really do appreciate all of the opportunities and support provided for us during the nursing program." While Mattie misses home and Boone, she has connected with a great group of new friends and is enjoying life in Nashville. When asked about her future plans, Mattie shared, "I love geriatrics, it has lived up to all of my expectations. I hope to complete a Nurse Practitioner program with an emphasis in geriatrics and am fortunate that the incentives at Vanderbilt for continuing my education are so generous." We believe that Mattie is well on her way to becoming an outstanding member of our profession, having received a perfect 100% patient satisfaction rating and was honored as the employee of the month for her unit in September.
Amy Michelle Miller is a 2016 Magna Cum Laude graduate of the BSN program. She was a member of Sigma Theta Tau International Honor Society and represented the Beaver College of Health Sciences as a junior marshal her junior year. Amy was also involved with SNAPP (Student Nursing Association at Appalachian State), where she served as Vice President her senior year. While in the nursing program, Amy found a niche for traveling and learning more about nursing around the world. With the Appalachian nursing program, she traveled to Merida, Mexico to observe the health care system and fully embrace the Hispanic culture while volunteering at schools, nursing homes, and hospitals. She also traveled to New York City with Dr. Lane and Dr. Huffman to volunteer with New York Cares serving underprivileged communities. Amy is very grateful for the study abroad opportunities the nursing program offered during her time in the program. These opportunities helped her develop a more diverse outlook to help better care for patients and families she is in contact with daily. Amy credits her success in nursing school to her professors, whom she could always approach for advice in both school and life. She felt they took the time for her, no matter what else may be going on. Since graduation, Amy works at Forsyth Medical Center in the Cardiac Intensive Care Unit where she also serves on the Magnet Advisory Committee. Amy has a love for pharmacology, hemodynamic monitoring, and caring for critically ill patients; she hopes to further her career by becoming a Certified Registered Nurse Anesthetist (CRNA).
RN-BSN Program

Mandy Eller Shumate, a 2011 graduate of the RN to BSN program, began the program immediately after finishing her ADN and receiving her license. "I wasn't sure I should start the program so soon, but I found that I was able to enhance and grow in my professional practice earlier, instead of later. I started noticing a progression of changes in my knowledge, critical thinking, communication and leadership skills. I was finally able to see the big picture and be a true advocate for my patients," said Mandy. Mandy has distinguished herself at Watauga Medical Center by becoming a member of their Professional Practice and Coordinating Council and more globally as a member of the ANA, NCNA, and the Infusion Nurses Society. She has been honored with two nominations for the facility's DAISY Award and treasures those because they come from patients and their families. Her passion for learning has been enriched by a recent addition to her professional experiences, becoming a clinical instructor for Caldwell Community College. Mandy shared, "I always thought that I wanted to be a FNP, but I have fallen in love with teaching and plan to start back to school for a MSN with a focus in Nursing Education. I am so grateful to my professors at ASU, the knowledge I gained helped me grow and become a better and more professional nurse." We hope to see Mandy's name on an application for our new MSN program. She certainly exemplifies the mission of our Nursing Department and will continue to be an exceptional ambassador for our program and the profession of nursing.