When she was growing up, Jennifer Corriher '18 dreamed of "rocking babies." Now she holds a B.S. in nursing from App State and serves as a labor and delivery nurse.
By Jan Todd
BOONE, N.C. —When Jenny Corriher '18 was young, she told her mother all she wanted to do when she grew up was "rock babies."
"My mother told me that was fine, as long as it involved me getting a college degree, so I went to nursing school and became a labor and delivery nurse," said Corriher, who is from Statesville.
Corriher earned her RN to BSN through Appalachian State University's online program — designed for students who already have a diploma in nursing or an associate degree in applied science.
She earned her associate degree in nursing from Mitchell Community College in 2001 and has worked at The Birth Place at Iredell Memorial Hospital in Statesville ever since.
"My favorite part about my job is the relationships I build with my patients, the support I am able to provide and the awe of being in the delivery room at the creation of a family," Corriher said.
She decided to pursue her BSN so she would have more opportunities for advancement in her career. "I did not want to miss out on a position I wanted simply because I didn't have the degree," she said.
App State's RN to BSN online program appealed to Corriher for several reasons. When she applied, she was working full time with three small children at home, so the online aspect and three-semester timetable were convenient. Plus, she said the faculty were very supportive.
"As an adult learner, I hadn't written a college-level paper in years," Corriher said. She added that Dr. Becky Turpin, assistant professor in App State's Department of Nursing, "took the time to make suggestions and point me to resources to help me improve my papers. She made me feel like I was her only student in the program."
As a charge nurse on her unit, Corriher said App State's BSN program helped her hone her role as a leader. "The critical thinking, leadership and collaboration skills I learned impacted my nursing practice for the better," she said.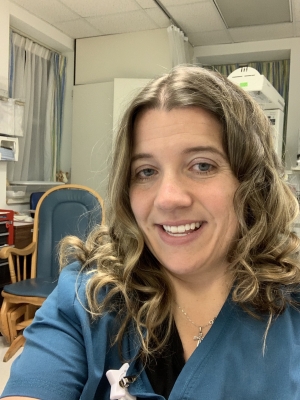 Tags: