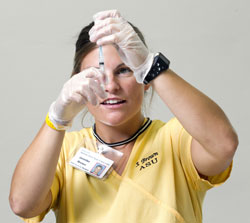 Nursing students benefit from a comprehensive nursing skills lab where low-fidelity and high-fidelity simulation learning experiences facilitate students' competency in psychomotor skill development and application of nursing process to patient care. The lab's structural design accommodates simultaneous delivery of multiple learning experiences with sufficient space for individualized instruction and post-simulation debriefing.
A new state-of-the-art $80 million, 203,000 square foot facility for the Beaver College of Health Sciences (BCHS) is to be completed Fall 2018 and will form the cornerstone of the Appalachian Health Science Campus. For more details, please visit the BCHS New Building page. The building is on a 9.2-acre parcel of land, adjacent to Watauga Medical, generously donated by Appalachian Regional Healthcare System. The expansion provides a central location for 14 of our 16 disciplines to engage in experiential training together in shared spaces – simulation laboratories, assessment rooms, treatment rooms and many others.
Graduates from the college will have the inter-professional skills needed to be contributing members of the healthcare profession, advance in their respective fields and enhance the quality of life and health in our state and beyond.