By Audrey Gurkin
Hanover County, N.C. — April Harrell is a two time graduate of Appalachian State University. She graduated in 2016 with a Bachelor of Science in Nursing and in December 2019, Harrell received her Master's of Science (MSN) degree in Nursing. She is currently a nursing instructor at Coastal Carolina Community College in Jacksonville, North Carolina and still works as needed in the emergency department.
In September 2018, Harrell was working as a part-time emergency nurse in a free-standing emergency department in New Hanover County, North Carolina and was enrolled in the MSN program at Appalachian State. The news of impending Hurricane Florence, a category 4 storm, had everyone in eastern North Carolina on edge. All of the personnel from area emergency rooms were called in to help. Harrell was assigned to the Storm Team, which means she was to report to the assigned facility New Hanover Regional Medical Center in downtown Wilmington the day before the storm hit and stay until the After Storm Team arrived.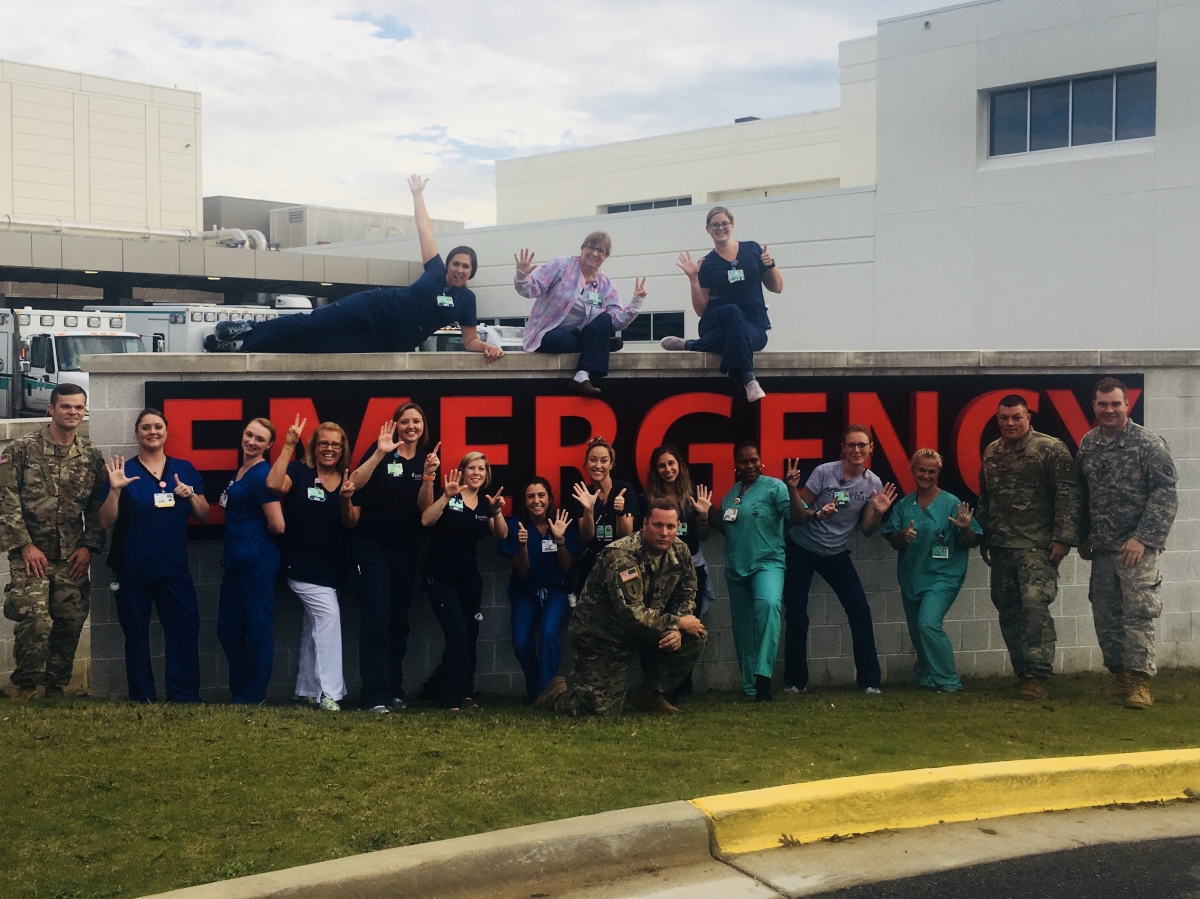 New Hanover Storm Team. Photo submitted.
Harrell's family also had to evacuate the area while she was left to report to work. It was overwhelming for them all. Her family packed their most prized possessions into their automobile and made their way to safer grounds. On her drive to the hospital that Tuesday afternoon, Harrell felt so alone. "Literally the entire town of Wilmington was like a ghost town," said Harrell. The unknown and the unfamiliarity of a new location added to her feeling of uneasiness.
Harrell was "locked in" from Tuesday to the following Wednesday. Florence lingered over Wilmington for three days. By Friday there were people who were in dire need of oxygen, patients in need of dialysis and scared civilians without power in need of shelter. Reporters were also trying to get into the hospital to find information. The Coast Guard had to be called in to assist with crowd control and address the looting. It was total chaos.
"By day four, the tears came. The constant demand during the day was exhausting and by night the tornadoes and alarms kept us awake. We were all drained — physically and emotionally. I had become depressed not knowing what was happening outside and due to our situation. It was during this time that my App State nursing instructors reached out to me," said Harrell. "They had no idea of my situation. I explained what I was experiencing and they listened to me. I had almost given up on trying to finish my assignments, but they would not let me give up. They encouraged me to stay strong and offered their support. They continued to reach out to me and I no longer felt so helpless."
When the After Storm Team arrived, Harrell went home to her family and slept for 16 straight hours. Thanks in part to the support of her MSN instructors, she completed her assignments and now uses the experience to teach her students about the strength of preparedness and perseverance. According to Harrell, "If I can survive that experience, I can survive anything."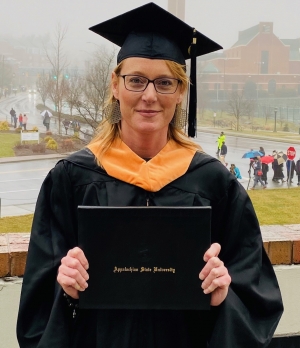 Tags: