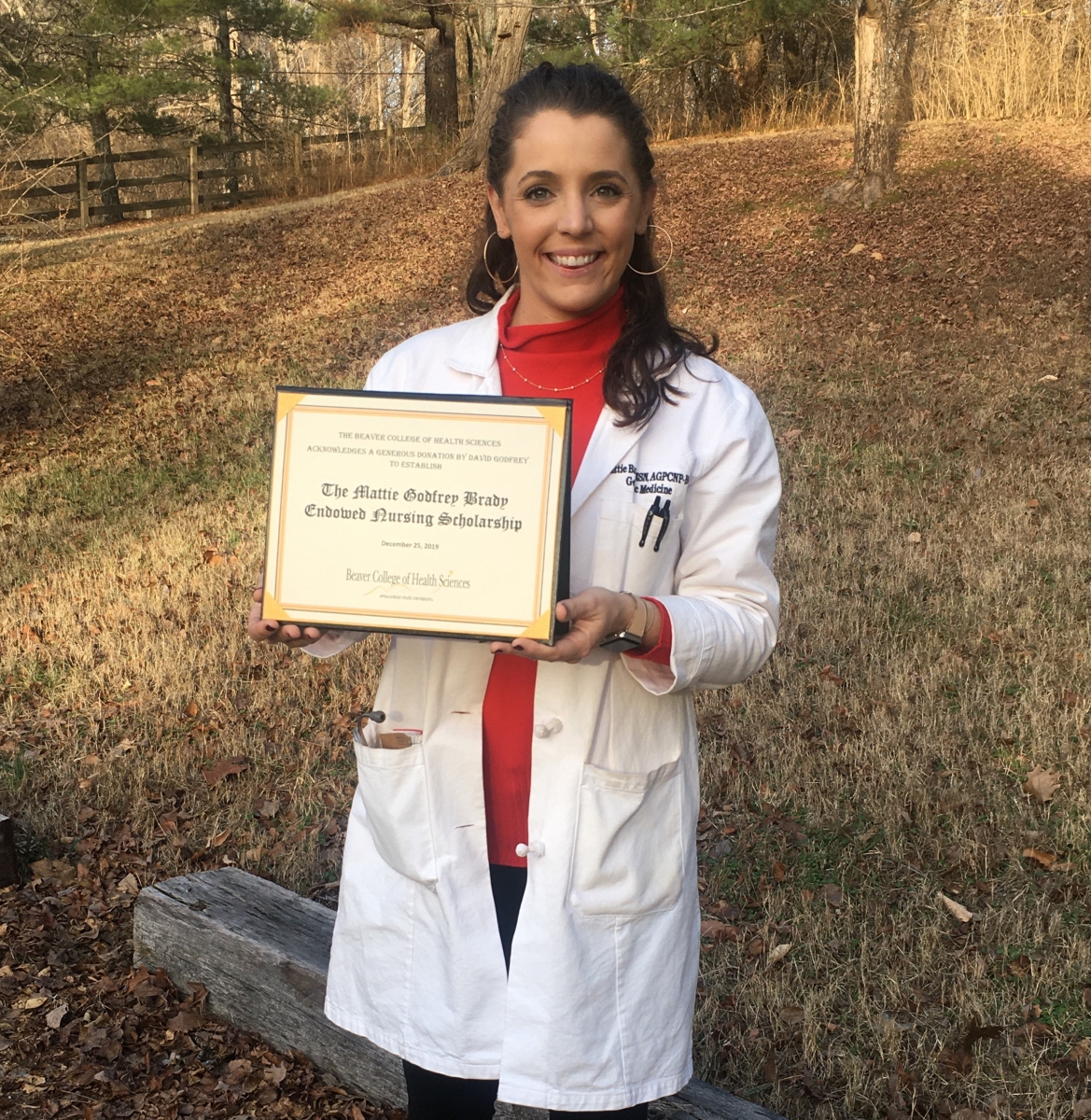 By Audrey Gurkin
A gift of giving
For Christmas this year Mattie Brady received a surprise gift from her father — an endowed nursing scholarship named in her honor. The scholarship is the first endowed scholarship named for an alumna of the Beaver College of Health Sciences and its Department of Nursing.
Brady graduated with a Bachelor of Science degree in Nursing from Appalachian State University in 2013. When she was looking at nursing opportunities at the beginning of her senior year, she became interested in pursuing a nurse residency program. Her top choice was Vanderbilt because they had a nurse residency program with an adult gerontology track and Brady had discovered her passion for geriatrics during nursing school. She was accepted into the nurse residency program at Vanderbilt and moved to Nashville right after graduation.
Brady was placed in the Acute Care of the Elderly unit from 2013-2017. She worked her way up from night shift charge nurse to day shift charge nurse. During this time, she decided to go back to school to pursue a nurse practitioner degree at Vanderbilt. She went to school part-time while continuing to work and graduated in 2016 with her Master of Science in Nursing degree through the Adult-Gerontology Primary Care Nurse Practitioner Program.
Brady currently works in a faculty position at Vanderbilt in the geriatrics division. In May she went back to school once again at Johns Hopkins University to obtain her doctorate of nursing practice while continuing to work.
Brady's passion for working with the geriatric population is what drives her to continue her education. According to Brady, "I was not a great student in high school or when I started my undergraduate degree and I believe it was because I had not found what I was passionate about. Once I found my passion for people and the servanthood that comes with the nursing profession, it was like a light bulb switched on for me and somebody saw that passion and decided to invest in me (Brady received a scholarship for one semester while in nursing school at Appalachian). This is what I hope this scholarship does for someone else. I hope it gives them some motivation to let them know someone else believes in them and that nursing is not just a good career path, but something that will fulfill purpose and meaning in their life."
According to Brady, "This scholarship also reflects my dad's character. He decided to use his inheritance in this way because he has witnessed what the nursing profession has done for me as an individual and he feels that it is something worth sharing with others. He is extremely insightful and sees the bigger picture. I can't imagine a more meaningful gift."