By Audrey Gurkin

Boone, NC — Jacob McCann graduated from Appalachian State University in 2016 with a Bachelor of Science in Nursing (BSN). He is currently in the Nursing-Anesthesia program at the University of North Carolina at Charlotte (UNCC).
Jacob McCann '16. Photo submitted.
Originally from Greensboro, North Carolina, McCann had never visited Appalachian. So when his identical twin brother came to Appalachian to play baseball, McCann came with him. He fell in love with Appalachian immediately, "I saw the football stadium and the mountains and I knew I had found my school," said McCann.
McCann was a walk on to the Appalachian Football team and while he loved playing football, his plan was to become a nurse. Once he was accepted into the nursing program, his football career ended. According to McCann, "School was more important and I knew I wasn't going to play in the NFL, so I made the right decision to stop playing football."
McCann had decided early on that he wanted to be in the nursing field. In 10th grade, he took a medical careers class and did his project on nurse anesthesia. His mother, who is an operating room nurse, also encouraged him to pursue a career as a nurse anesthetist.
McCann did his clinical work at Wake Forest Baptist Hospital while attending Appalachian and he was offered a job at the hospital before he graduated. "I bleed black and gold! App State made all of this possible for me," said McCann. He worked at Wake Forest Baptist Hospital for almost three years before he made the decision to go back to school.
In August McCann began the Nurse-Anesthesia program at UNCC. He expects to graduate in December 2021. After graduation, he would like to return to the mountains, "The Boone area is a great place to raise a family and the recreation opportunities are endless. Perhaps I can come back to Appalachian and teach one day."
"As a faculty member, it is very rewarding to see our former students succeed in their careers while making an impact on the health of people in North Carolina," said Dr. Beth Fiske, Director of Graduate Nursing Programs at Appalachian's Beaver College of Health Sciences.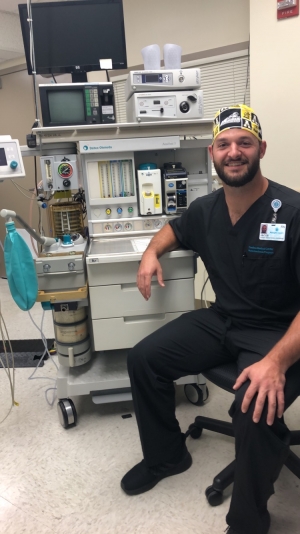 Tags: