Michael A. Matthews is the recipient of the Academic Award in Nursing. His most memorable professor is Dr. Jean Bernard because she challenged him to reach his full potential and helped him succeed. His favorite course was Pathophysiology with Dr. Bernard because it provided a solid foundation for other nursing courses and for delivering safe and effective care. Michael says that his clinical experiences taught him that healthcare professionals must be honest, respectful, humble, kind, and always learning. When he wasn't studying or in class, Michael's memories of his time in Boone include tailgating with friends before football games, going on hikes, including the Profile Trail, Snake Mountain, and Rough Ridge, snowboarding at Sugar Mountain, and playing golf. He is most proud of receiving a job offer from Wake Forest Baptist Medical Center in the Neurological Intensive Care Unit. He also hopes to continue his education in the future and become a Certified Registered Nurse Anesthetist. But first, he will go on a 5 day cruise to the Bahamas with his family to celebrate...but don't worry Nursing faculty, he is bringing his NCLEX review materials with him. Michael: enjoy your cruise and congratulations!
Lauren Ashley Janik is the Leadership Award recipient from the Nursing program. Her fondest memories include meeting so many lifelong friends (including her two roommates), having an RA who was an aspiring nurse herself, and staying up late at night to watch American Horror Story in the lobby of her dorm. Some of her best memories are from her first year in Gardner Hall, even though it is one of the smallest dorms on campus! Lauren says she learned lessons in leadership from both her Nursing courses and her experiences in University Recreation where she served as a group fitness instructor. Lauren's most significant accomplishment at ASU was being accepted into the prestigious nursing program. Her most memorable professor was actually her assigned faculty mentor, Dr. Carolyn Huffman. Dr. Huffman provided the perfect balance of support, reassurance, and guidance, and Lauren hopes to embody the qualities of fairness, poise, and empathy that are evident in Dr. Huffman. Her favorite course was Pathophysiology, where she discovered her love for cardiology. In the future, she hopes to work with patients in critical care and perhaps one day return to the classroom as a professor. Immediately after graduation, she will study like crazy for the NCLEX and begin her nursing position at UNC Rex Healthcare on the intermediate cardiac floor. Lauren: we hope you enjoy your new job; congratulations!
Sarah Martin is the recipient of the Graduate Student Award for the Master of Science in Nursing. Sarah lists her most significant accomplishment at Appalachian to be from a summer clinical practicum where she was instrumental in the creation of an Integrative Fibromyalgia program. She has felt fully supported by her classmates and faculty during her studies and particularly enjoyed her time as a GA doing research with Drs. Carolyn Huffman and Dana Brackney, as well as her time working with Dr. Susan Lane on the MSN accreditation. I can tell you from first hand experience that if she enjoys working on program accreditation, she's an impressive individual. Or maybe she just enjoyed working with Dr. Lane. That's pretty easy to understand. She notes that these three professors raised the bar for all students to be better than they knew they could. Sarah has a passion for integrative health and would love to enter the academic nursing education arena--perhaps even teaching at Appalachian. Well…pipe dream no more! Sarah will be joining Appalachian as a faculty member in the Department of Nursing this fall. Congratulations on the award and the new faculty appointment. We look forward to having her in the BCHS family.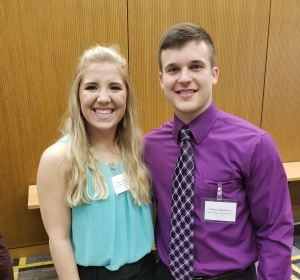 Tags: